hai2 korang... aku baru lepas laminat tagging, buat minit mesyuarat and print surat panggilan meeting. so time for myself pulak. pagi ni aku tak sempat minum air panas. hoho... bila tak sempat minum or breakfast, rasa tak sempurna hari. sempat buat sarapan, tapi tak sempat masak air. haha... gara2 budak2 lewat turun dari dorm. so aku jerit kejap. diorang berlari2 turun tangga, salah seorang terpeleot kaki. haha... terkehel, terseliuh. aku gelakkan budak tu dah nangis2. jahat kannn? kisahnya aku jerit diorang lambat turun. aku bagi 10 saat. sambil aku tengah mengira tu lah yang dia berlari then terpeleceok tu... haha...

okay, peringatan. entri kali ni adalah bahan bacaan untuk dewasa sahaja.

seperti pernah aku ceritakan, aku pergi berjumpa doktor kedua. nama doktor tu Doktor Tokha di Regency Hospital. dia ni pakar sakit puan. aku memang dah tahu lama tapi tak berani pergi sebab tahu kosnya tinggi. tapi selepas membayar harga agak tinggi pada doktor pertama, makcik aku suruh aku berjumpa Dr. Tokha. ya, dia seorang lelaki. tapi... untuk berubat kan, kuatkan semangat! so time tu financially kami pun okay, kami buat keputusan untuk mencuba.

awal2 lagi masuk jumpa dia, dia tanya2 soalan2 lazim lah tentang period cycle etc... then dia suruh berbaring kat katil. dalam bilik dia lengkap semua. tv besar ada 3. 1 untuk tengok tv depan dia. lagi 1 kat bahagian depan pintu bilik dia untuk para keluarga dan suami tengok para ibu2 wanita2 di scan. 1 lagi untuk patient tengok apa yang di scan. so sambil dia scan, suami boleh tengok kat tv depan tu. dan sambil dia terangkan tu, semua orang paham lah... bukan setakat patient je paham. best kan?

okay, benda pertama dia sebut masa scan tu adalah bentuk rahim aku. dia kata rahim aku terbalik. 20% wanita dalam dunia ni mempunyai rahim jenis macam ni. so, maybe aku akan merasa sakit ketika membuat hubungan intim dengan suami. jadi, dia ajar posisi yang kurangkan sakit itu.


kemudian dia cakap, nak tengok telur dalam ovari pulak. if ada yang dah nak matang, dia akan bagi aku injection menggalakkan penetasan telur. dia cakap telur matang yang akan ovulasi bersaiz lebih kurang 12mm. then dia scan ovari aku, jumpa 1 telur bersaiz 10mm di ovari belah kiri. telur kanan kecil-kecil lagi. hari berkenaan adalah hari ke10 cycle period aku. so dah agak2 nak subur lah kan? jadi dia bagi injection Ovidrell. rupa telur lebih kurang macam ni. yang blank bulat hitam tu lah telur.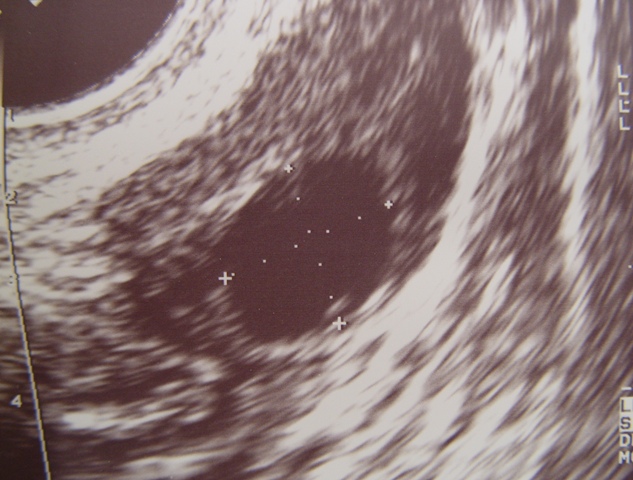 ha, gambar bawah ni pasal PCOS. polycystic ovarian sindrome. maksudnya, dalam ovari ada banyak telur. dan telur tu tak menetas. maksudnya tak mengalami ovulasi. selalunya telur yang matang akan mengalami ovulasi. dan yang tak matang akan mengecut. tapi dalam kes PCOS, telur2 ni akan menjadi CYST.
so, lepas tu dia balik supplement segala... ubat2. macam2 sikit punya banyak wooo... and untuk suami, dia bagi supplement untuk menambah bilangan sperm dalam semen. haha... doktor cakap, disebabkan kes aku macam ni, suami memerlukan kandungan sperm yang tinggi untuk membantu aku conceive baby. macam tu lahhh cerita dia...
apa lagi eh dia cakap... yang paling utama penghidap PCOS ni, kena turunkan berat badan. haha... hadoi, bukan senang woi... aku sedang mencuba. eh, aku mencuba ke? ah... susah2... pening pikir nak turunkan berat badan (sambil kunyah keperek ubi pedas). hoho...
p/s (i) : banyak minum air, banyaklah air kencing.
p/s (ii) : hari ni last stok barang ada... esok dah kena membeli dah. arghhh! susahnya takde kereta. roadtax ni bilalah nak setel.
p/s (iii) : meeting meeting meeting and meeting... bohsan! bohsia! bohjan!
p/s (iv) : aku tak paham dengan kakak sorang kat tempat kerja aku ni. suka melecehkan benda senang. ni dengar ura-ura nak rombak kedudukan guru2 dalam bilik guru aku ni. sakit hati takkkkk?
31012013 ~ 11.19am
meja aku ~ bilik guru 2-KVK